Dental Implants

Lacey, WA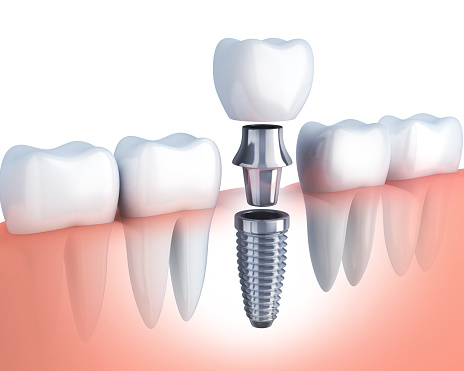 Dental implants are a restorative replacement for tooth roots. They are embedded into the jawbone, under the gumline. Over a period of several months, they fuse with the bone, forming a strong and secure base on which to attach an artificial tooth (crown) that looks, feels, and functions like a natural tooth.

A versatile procedure, dental implants can replace one tooth, several teeth with an implant-supported denture, and all of the teeth with the All-on-4® Treatment Concept. There may be some situations, however, when dental implants are not feasible, which may require other treatments before the dental implant procedure can be undertaken, or an alternative tooth replacement option may need to be considered instead.


Am I a Candidate for Dental Implants?
General Health

Good general health is a prerequisite to dental implant treatment. Some health conditions, such as blood clotting disorders, are an issue for any surgical procedure. Also, chronic conditions such as diabetes may be problematic because people with diabetes are susceptible to gum disease. Peri-implantitis is a similar infectious disease-causing inflammation in the gums and bone loss around a dental implant, which ultimately may cause the implant to fail. Other conditions, such as blood clotting disorders are also an issue, but if you have these conditions it doesn't necessarily mean you cannot have dental implants. However, you will need expert care and a multidisciplinary approach between your dentist and doctor.


Bone Loss

Bone loss is one of the most prevalent reasons for not being a good candidate for dental implants, and this is typically due to tooth loss. Bone loss could be caused by periodontitis (advanced gum disease), which damages both gum and bone tissue, or it may be caused by a tooth lost due to an accident when the bone around the tooth socket resorbs during the healing process.

In either of these circumstances, there may not be enough bone in the jaw to secure a dental implant. However, the situation is not irredeemable, and the jawbone could be augmented with a bone graft or sinus lift. Several months following this procedure there should be enough bone regenerated to allow for the successful placement of a dental implant.


Smoking

Everyone is aware of the general dangers of smoking without necessarily knowing how smoking can affect a specific procedure like dental implants. Dental implants require good blood flow containing essential nutrients and oxygen to help the healing process and to fight infection. Smoking diminishes blood flow which can have a disastrous effect on the successful integration of dental implants.


Oral Hygiene

Dental implants need to be kept clean, particularly in the area around the gum line where bacteria can accumulate. It is imperative to have a twice-daily cleaning and flossing routine, as well as maintaining regular dental visits for check-ups and dental hygiene procedures.

If you are considering dental implants, we are here to help. Find out more about your suitability for dental implants at Karl Hoffman Dentistry and call our office at 360-539-3429 to schedule an appointment.