Sportsguard

Lacey, WA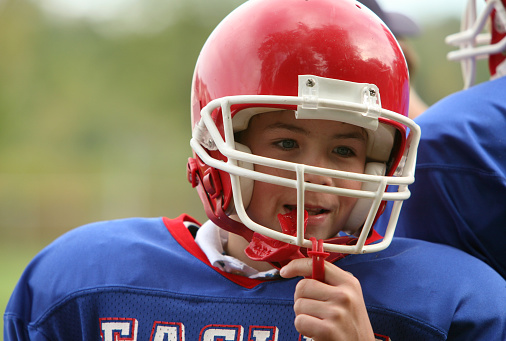 Did you know that a sports-related dental emergency is one of the most common injuries kids experience? In fact, according to the American Dental Association, almost half of all dental emergencies occur in children between the ages of 5 and 14. So if your little athlete is gearing up for another season of sports, it's essential to be prepared for any possible dental emergencies. As for adults, here at Karl Hoffman Dentistry, we see sports-related trauma accounts for one-third of all dental injuries. This is why a sports mouthguard is important. In this article, we'll explore the importance of this mouthguard.


Mouthguards and dental emergencies

A sports mouthguard can help protect against dental injuries, one of the most common types of emergencies. If you're an active individual, it's essential to wear a custom-fitted mouthguard that fits comfortably and keeps your jaw in place during physical activity. This is especially true if you play a contact sport like football, soccer, or rugby, where there's a risk of high impact collisions.


Sports Mouthguards Protect Teeth from Damage & Fracturing

Even though they may seem trivial at first glance, tooth fractures can happen during activities such as running upstairs or wearing loose teeth with braces. A fractured tooth requires immediate attention because small cracks left untreated could lead to pain and infection over time. Even worse - permanent damage could seriously affect the health of your teeth.

Mouthguards also help protect your teeth from damage. Did you know that your teeth are actually at risk of being knocked out when you play sports? This is why it's so important to wear a mouthguard during physical activity - it can provide up to 30% protection against dental injuries. In fact, according to the Academy of General Dentistry, custom-fitted mouthguards offer more protection than over-the-counter varieties.


How Much Damage Can Mouthguards Prevent?

Injuries such as these may seem minor, but they often require extensive and expensive treatment. However, dental injuries account for $500 million in insurance claims each year, so mouthguards do pay off in the long run! Not only do they help protect against fractured or chipped teeth, but mouthguards can also prevent facial lacerations and nerve damage.


How to choose the right mouthguard for your sport.

When choosing the right mouthguard for your sport, there are a few things you need to keep in mind. First of all, not all mouthguards are created equal - some are designed for contact sports while others are meant for non-contact sports. It's important to choose the right type of mouthguard to provide the best protection for your individual needs.

Mouthguards also come in different sizes and shapes, so it's crucial to find one that fits comfortably in your mouth. You don't want it too big or too small, and you don't want it slipping around when you're trying to focus on the game.

Finally, make sure to pick a mouthguard made from durable material that can withstand impact. For example, a mouthguard made from polyurethane is a good option for athletes who participate in contact sports because it's tough and can withstand high-impact collisions.

So whether you're an adult or child, it's essential to wear a mouthguard during physical activity to protect your teeth from damage and fractures. Not only are they comfortable and easy to use, but mouthguards can also save you from visiting us at Karl Hoffman Dentistry and incurring costly dental injuries down the road. If you have any questions, call us at 360-539-3429, and we'll answer all your questions.